User Experience can help patients and providers improve health outcomes
In his mind, Aaron Nathan HFID ˊ18 had his career mapped out: Leverage his undergraduate degree in psychology to do biopsychosocial research and eventually earn a PhD in psychology. But after three years doing research and one year of work experience in an acute inpatient psychiatric hospital treating the severely ill, he had a change of plans.
"I saw first-hand how broken the mental health system is and I wanted to make a difference for patients, families and providers," Nathan recalls. "I always assumed that meant getting a medical degree or PhD or becoming a licensed care provider of some sort."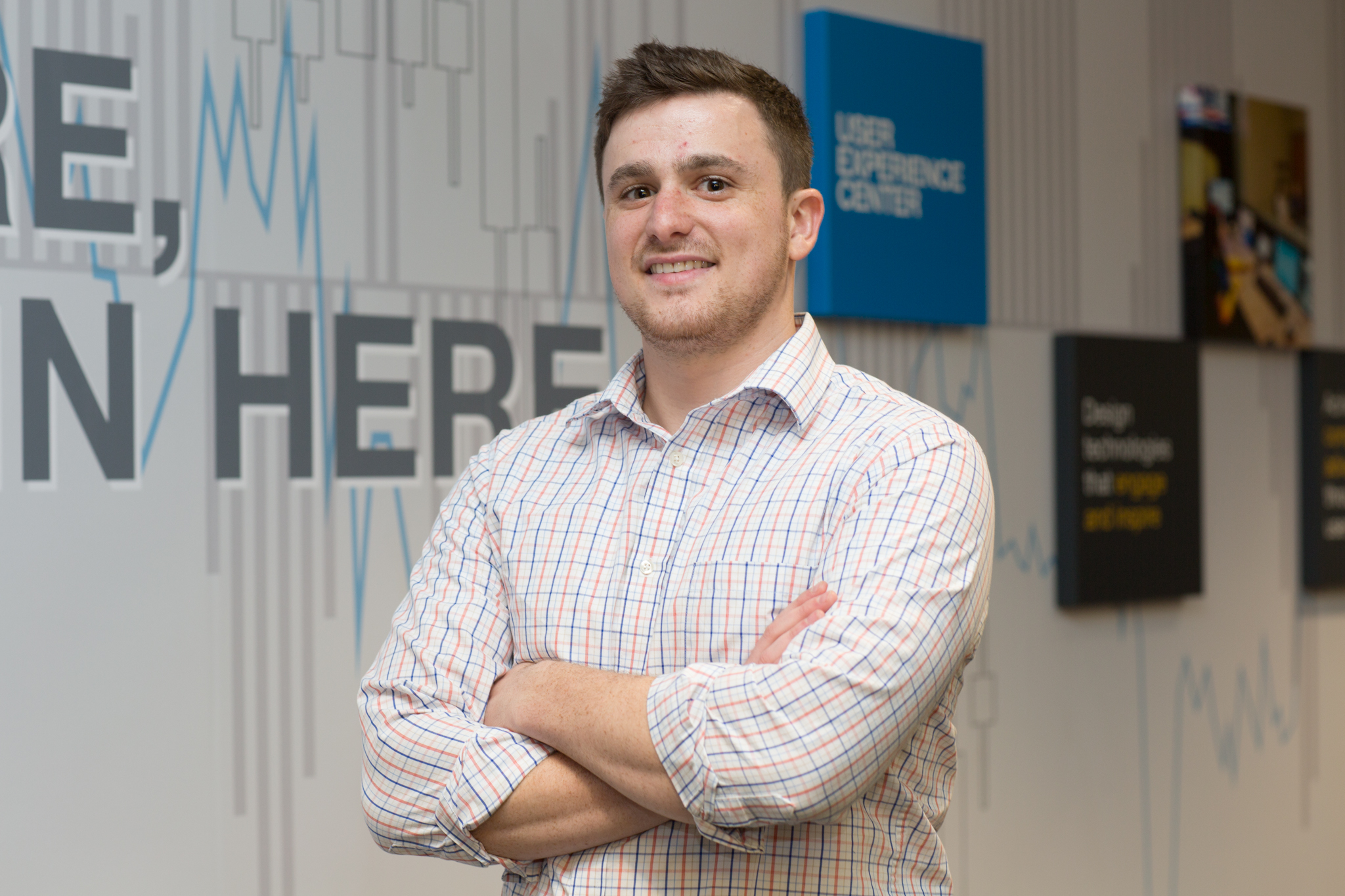 He found out that wasn't true, however, when he was offered an opportunity for a project at Brigham Women's Hospital in Boston. The position had a significant UX (user experience) component and user interface design component, something Nathan says he didn't have an interest in at the time. But because he liked the premise of the project — "informing patients about the reasons for their medications and putting that information into the prescribing workflow and then doing outreach to try to make that a standard" — he took a leap of faith; and it paid off.
When project team member and fellow Bentley graduate Pam (Garabedian) Neri HFID '08 noticed how the work came naturally to him, she introduced Nathan to Bentley Professor and Director of the Human Factors in Information Design (HFID) program, Bill Gribbons — and it wasn't long before Nathan enrolled in the HFID master's program.
"One of the reasons I chose Bentley was because of the opportunity to work in the User Experience Center [UXC] to help me understand how user experience work happens in the real world," Nathan says of his role as a UX research and design associate at the center. "I also gained that same kind of business acumen in courses where I had the chance to do up-front work with actual clients."
Nathan recalls that the first project he worked on at Bentley took him away from health care user research and challenged him in a design role in a new industry.
"I had to build a website for the municipal securities rulemaking board that conveyed every real-time fact about every municipal bond in the United States so within 15 minutes of those changes occurring in real life they are reported in the system and then viewable to the users, the general public," Nathan explains. "It was primarily a design project, which provided the opportunity to really understand what it means to interface with clients in different industries and see how the field of user experience remains consistent across industries. The experience was invaluable and provided a unique perspective to municipal security experts."
It's something that Nathan uses in his current role as senior service designer at the Mayo Clinic within the Center for Science and Health Care Delivery.
"I'm designing for doctors who are world-class specialists and know things at a level of granularity that only them and a handful of other people in the world know," Nathan says. "I have to deliver that information to them — without the many years of education that they have. It's the experience at the Bentley UXC that taught me how to leverage a team of resources and apply UX principles."
In addition to supporting the medical team, a primary goal of Nathan's job is to make sure the voices of Mayo Clinic patients are heard, which means his "product" is focused on supporting clinical decisions at the point of care and designing a system for clinical work flows.
But for Nathan, the broader impact of his work is about the opportunity to help people. "At the end of the day, the goal in health care is to improve outcomes and UX is integral to successfully doing that. Every day it's about how I can help vulnerable people who are sick or seeking care by providing the support necessary for physicians to really take that time and provide the best care for their patients and maintain a high level of quality. I consider it both a true opportunity for innovation and an opportunity to impact care in a strikingly positive way."
Nathan describes that by incorporating UX and research into health care, and every field, it provides a lens into what the general experience is and allows you to avoid the bias that inherently comes with depending on a single subject matter expert or a single liaison to the experience. UX is an extraordinarily necessary component of how to deliver quality products and quality resources.
Nathan believes the Bentley program taught him that UX is "all about people."
"The first word in the Human Factors and Information Design program is 'human'," Nathan says. "A professor told me that the human element is to not only focus on the experience of others, but to focus on your own experience and what you want out of your day-to-day job and career. The philosophy, and doing projects that are emblematic of what I would do in the real world, helped me figure it all out."
Among his takeaways from the HFID program: primary user research, innovation and strategic element, and business strategy applied to the needs of people versus just economics; things that Nathan says, "make me smile."
"What the Bentley HFID program does is essentially show you what it's going to be like on a UX team working with people and clients that vary from class to class; and working with professors who have worked in the industry or are still working as consultants. "If you want to be in business, you need more than an academic focus. You need to understand how UX operates -- and operates well -- and provides value to the business that you are in." Sometimes, that value has far-reaching results. "UX is integral to improving health outcomes, especially as technology continues to expand further into the everyday practice of medicine and receipt of care."
NOTE: The opinions in this story are those of Aaron Nathan and in no way reflect the opinion of the Mayo Clinic.