Getting Comfortable with Change
For Ryan Day, "good enough" is never good enough.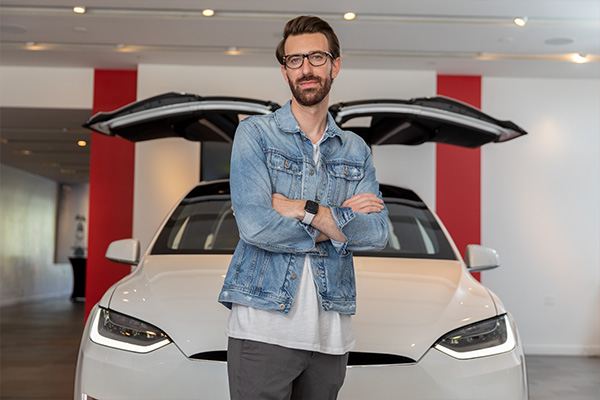 "I see an opportunity for refinement and innovation everywhere!" the senior user experience (UX) designer at Tesla says. "Working in UX, I'm in a rare position to create solutions that enrich lives and empower users."
Day discovered user experience when he was an analyst at LinkedIn. While attending a hackathon, he met a designer and the two clicked. This mentor thought he'd be a good match for UX and eventually encouraged him that the best way to be successful in the field was to pursue a master's degree. 
"I wanted to learn the proper process of approaching design and user research," Day says. "It was important to me that my foundations be solid and that I didn't stumble through learning on the job." 
Another mentor — his mother — had heard of Bentley University and suggested he attend an information session. The depth of focus and academic rigor of the school's Master's in Human Factors in Information Design (HFID) immediately appealed to Day so, shortly afterward, he took the GRE and applied. He would eventually become a member of Bentley's first West Coast cohort.
"Bentley approaches design-learning differently," says Day. "The HFID program is for those interested in digging deep into Human Factors science, not merely visual design. This is not an art program; it's a science-centric education. I respond well to challenges, and Bentley truly showed me I was capable of more than I ever thought possible. I was exposed to subjects and concepts I would never have found on my own."
Now at Tesla, Day creates tools that support the company's mission to accelerate the world's transition to sustainable energy, including products that make the company's Solar Roof, Powerwall, Powerpack and Supercharging initiatives possible.
COLLABORATION AND SYNERGY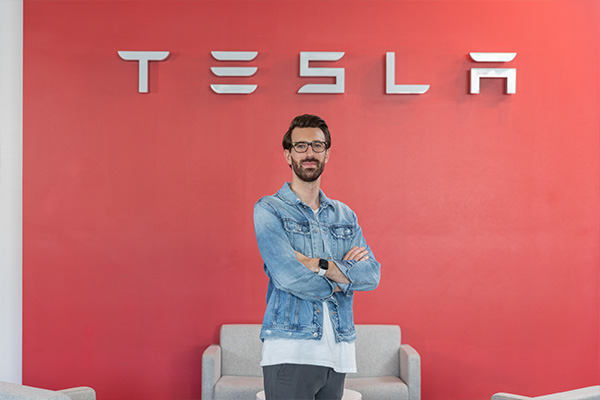 "One aspect of Tesla design culture is that all designers perform their own research, as dedicated researchers are not available," he explains. "Bentley has prepared me for this by teaching me various research and field methods, tools necessary for establishing empathy in product design."
Day says his Tesla team's stresses collaboration and synergy. He'll attend daily stand-ups and all major planning meetings, even if they're tech-centric. And he's studying programming so he'll eventually be able to develop his own designs. His experience at Bentley has changed the way he sees the UX space and allows him to speak confidently as a usability expert.
"Passion for craftsmanship and simple user experience is thankfully common at Tesla," he says. "If someone proposes a more elegant solution, we will abandon the original work even if complete and re-work everything from the ground up. Tesla folks are quite comfortable with change."
It's not that way everywhere, Day says. Tesla is hyper collaborative, and all individual contributors have a tremendous amount of ownership. Although some startups operate with limited red tape, Day believes Tesla is in a league of its own compared to similar-sized enterprises, with some notable exceptions such as Apple. 
"It all comes down to the people: We care about quality and are respectful, listening to everyone's input," he says. "My advice is hire slow and fire fast. Culture fit is often undervalued. Smaller, empowered teams will deliver faster and simpler solutions than larger teams with rigid hierarchies. The vast majority of our decisions about features, designs, and implementation are made at the team level."
SEEING THE FUTURE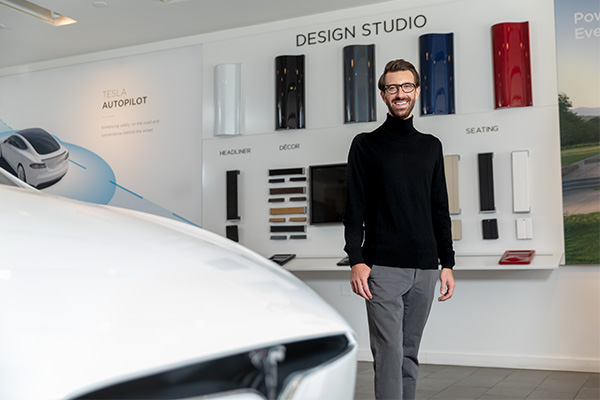 Day sees a future in which designers and researchers work in tandem with artificial intelligence to take UX to a new level of productivity, innovation and uncertainty.
"Soon it will be the future," he says. "I genuinely believe I will live to witness the singularity or event at which AI becomes sentient, which will set into motion an uncertain future for humanity. Ethical implications will more than ever be the compass that guides our decisions."
Designers will need to participate in the planning of disruptive innovations such as CRISPR or robotics, Day believes. He points to another Elon Musk company, Neuralink, which is developing brain implants that could restore motor function for a quadriplegic or revive lost memories for someone suffering from Alzheimer's. 
"Designers and researchers are essential for overseeing and planning these inevitable seismic shifts," he says. "I'm optimistic AI will be our co-designers/research assistants and accelerate our workflow without replacing us. Although uncertainty is scary, I remain optimistic about continuing to improve humanity alongside our future AI co-creators."
Learn more about the MS in Human Factors from Bentley University