Ambassador of Her Career: How a Dual Graduate Degree from Bentley Changed a Career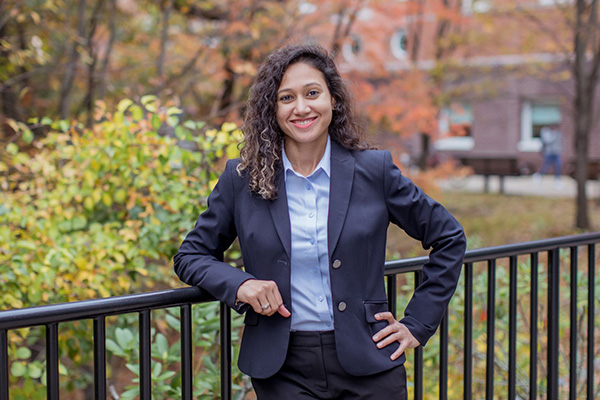 When Amrita Choudhary '20 decided she wanted to pursue a dual master's degree in business and financial analytics, she developed a list of must-haves for the program: a strong reputation; global perspective; preparation and career development; and on-campus opportunities. Bentley checked all the boxes.
"Bentley's program was well balanced," says Choudhary, who enrolled in the MBA and Master of Science in Financial Analytics. "In addition to professors who have a world-class teaching style, the full-time program provides real-world training, offers on-site activities and also helps the students build relationships for future growth." 
Choudhary made sure to leverage the experiences on her list. In the classroom, the diversity of her classmates stood out. "I had a wonderful time working on a group project with students from across the globe from areas like Russia, Mongolia, Nigeria, Albania and America. It enhanced my cultural knowledge and awareness, and had a huge impact on our project because our team was able to interpret problems and solutions from multiple perspectives." 
But not all her takeaways came from the classroom. "Working as a graduate ambassador in the Office of Graduate Admission was the best experience of my college life and still the favorite job of my career because I had the opportunity to share my university experience with incoming grad students," Choudhary recalls. "I got an amazing opportunity to guide and counsel grad students in deciding which course would be suitable for their career based on my own university experience. This role helped me enhance my leadership and communication skills." 
She also invested time into relationship building. As a treasurer for the Graduate Student Association, Choudhary connected with her graduate cohorts. Along with her professors and staff from departments like Graduate Admission, she built a strong network and skills that she says helped secure a summer internship at NuoDB — and ultimately a full-time job offer.   
Gaining a Competitive Edge
Choudhary came to the United States from India in 2016 and was working as a finance manager at Maxima Consulting Inc when she began her graduate degree programs at Bentley. She arrived with nearly a decade of accounting, advisory and auditing expertise.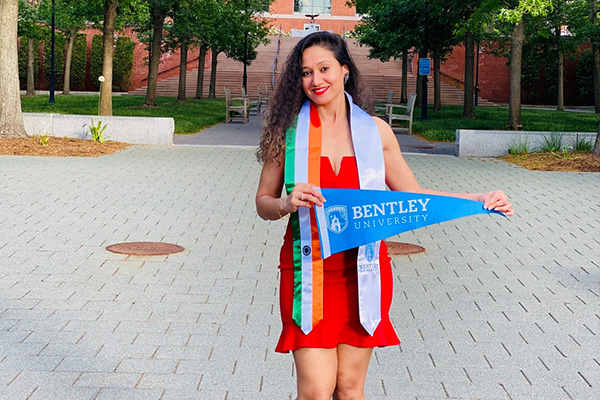 "I am a CPA from India, which is one of the biggest accomplishments of my life," Choudhary says. "I decided to enroll in Bentley's MBA and MSF in Financial Analytics to enhance my leadership and technical skills to eventually grow in my long-term career."
And it worked. Choudhary says that the dual degree helped her gain technical knowledge in finance and made her profile stronger and more competitive. "The dual degree set me apart from other graduate students as the combination of management and technical skills is what most companies require, specifically for management positions. I also got an opportunity to learn technical languages like SQL and R, which enhanced my analytical knowledge."
After receiving four full-time job offers for different roles, Choudhary chose to join Aetna/CVS as a senior audit consultant. A typical day on the job consists of identifying, documenting, reviewing and validating test evidence; evaluating and analyzing business processes and how they affect financial statements; assisting management to evaluate quarterly roll-forward assessments; assisting in the documentation of internal control over financial reporting and evaluating if internal control is working effectively or not and report to internal auditor.
"My favorite part of the job is learning about new controls and processes every day," Choudhary says. "The challenging part is to meet the deadline of testing requirements and communicate with different business team members to collect the test evidence." 
On a broader level, Choudhary enjoys mentoring and building efficient and productive teams.  While working as a finance manager in Maxima consulting Inc, for example, she had an opportunity to create her own team and a process for recruitment, training and mentoring. 
"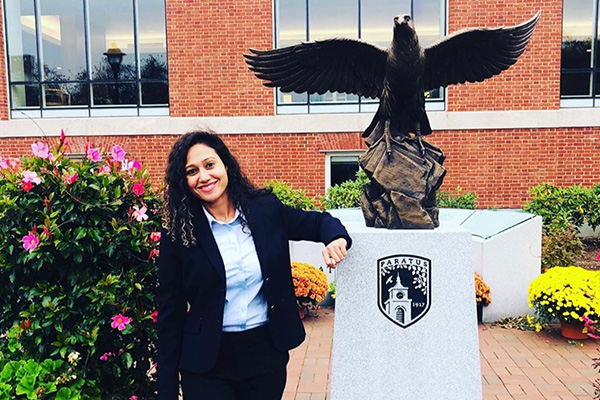 I spent about a month in the recruitment process, which consisted of several interview stages to hire the right candidate for our team," Choudhary explains. "I also created a detailed three-week training schedule for the new hire to provide them with insight about the company, culture, people and system. It helped me to build a very strong and efficient finance team to create and implement a successful automation of vendor payment and payroll processing processes." 
Arriving at Bentley with professional experience under her belt, she says, helped boost her confidence to connect and establish connections with professors and other graduate students. 
"The most important part about teamwork is how to leverage individual skills to meet goals that could be challenging to achieve individually," Choudhary says. "I learned this while working on a global strength group project where we had to do comparative analysis of two companies. We distributed the work among five team members and were able to complete our project within the given two-week deadline — with amazing feedback from our professor."
Choudhary's advice for people considering a graduate degree at Bentley? "Come in with an open mind and spend more time on campus connecting with professors, students and staff members. Participate in college events and do not forget to network." 
Start Your Graduate Application