The Total MBA Experience
A leading-edge academic curriculum is just one piece of a holistic graduate business education for students choosing a full-time MBA at Bentley. Here, the graduate experience includes global business immersions that combine classroom instruction and international trips helping to broaden your understanding of the world's economy and foreign cultures. You will also have exclusive hands-on access to top executives from the corporate world, learning firsthand how today's leaders navigate and solve their biggest business challenges.
The full-time MBA and part-time MBA at Bentley offer distinct advantages catering to different needs and lifestyles. Our full-time MBA is an immersive, intensive experience typically completed in two years, providing a deep dive into core business concepts and providing extensive networking opportunities. It's ideal for those seeking a career transition or rapid skill development. Our part-time MBA allows working professionals to balance their careers while pursuing this valuable credential over two to five years. This format offers greater flexibility, cost-effectiveness, and the ability to apply classroom learning directly to the workplace. The choice between the two depends on individual circumstances, career objectives and the capacity to effectively balance work and school.
12-15
Courses
All applicants are evaluated for foundation waivers
16-24
Months
Time to Completion
30%
Median Award of Merit Aid Offered
Your MBA Education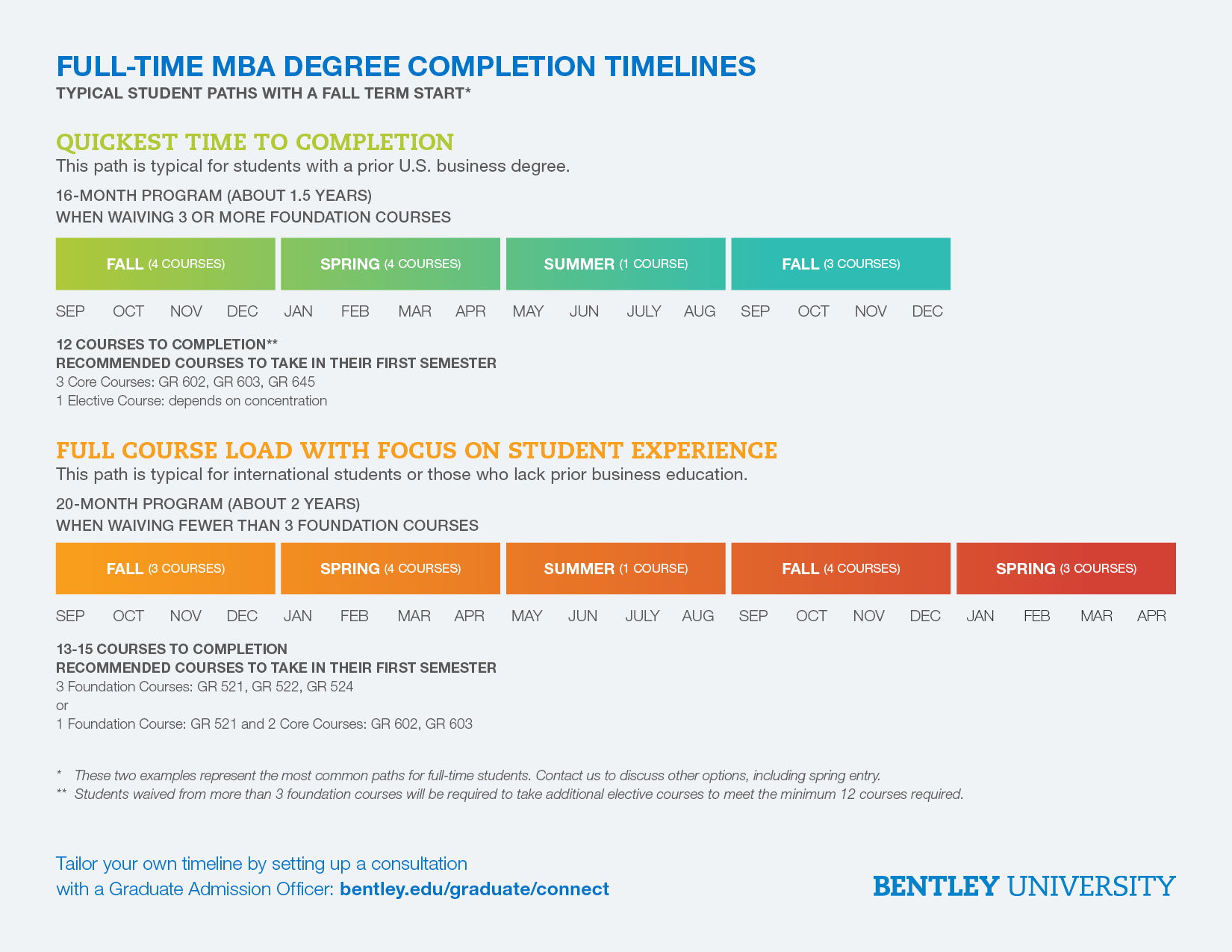 Explore our other MBA formats
Ready to Enroll in the Full-Time MBA Program?
Career Outcomes
Employers Hiring Our Graduates
Our Graduates
The Graduate Career Development team is amazing; always eager to help. They assisted me in getting where I am today and I am so grateful to them for this. I am very proud of my MBA & MSBA!
Pearl Brian-Esema, MBA, MSBA '19
Your Student Experience
Your Admission Team
175 Forest Street, Waltham MA 02452
Monday through Friday 8:30 a.m. to 4:30 p.m. Eastern
The Graduate Admission team is happy to help you throughout your search and application process. 
Learn More About Bentley's Graduate School of Business