The Total MBA Experience
A leading-edge academic curriculum is just one piece of a holistic graduate business education for students choosing a full-time MBA at Bentley. Here, the graduate experience includes global business immersions that combine classroom instruction and international trips helping to broaden your understanding of the world's economy and foreign cultures. You will also have exclusive hands-on access to top executives from the corporate world, learning firsthand how today's leaders navigate and solve their biggest business challenges.
49
Graduating Class Size
2019 Graduate Career Outcomes Report
12-15
Courses
All applicants will be evaluated for foundation waivers.
16-24
Months Time to Completion
2019 Graduate Career Outcomes Report
30%
Median Award of Merit Aid Offered
Office of Financial Assistance
Explore our other MBA formats
Your MBA Education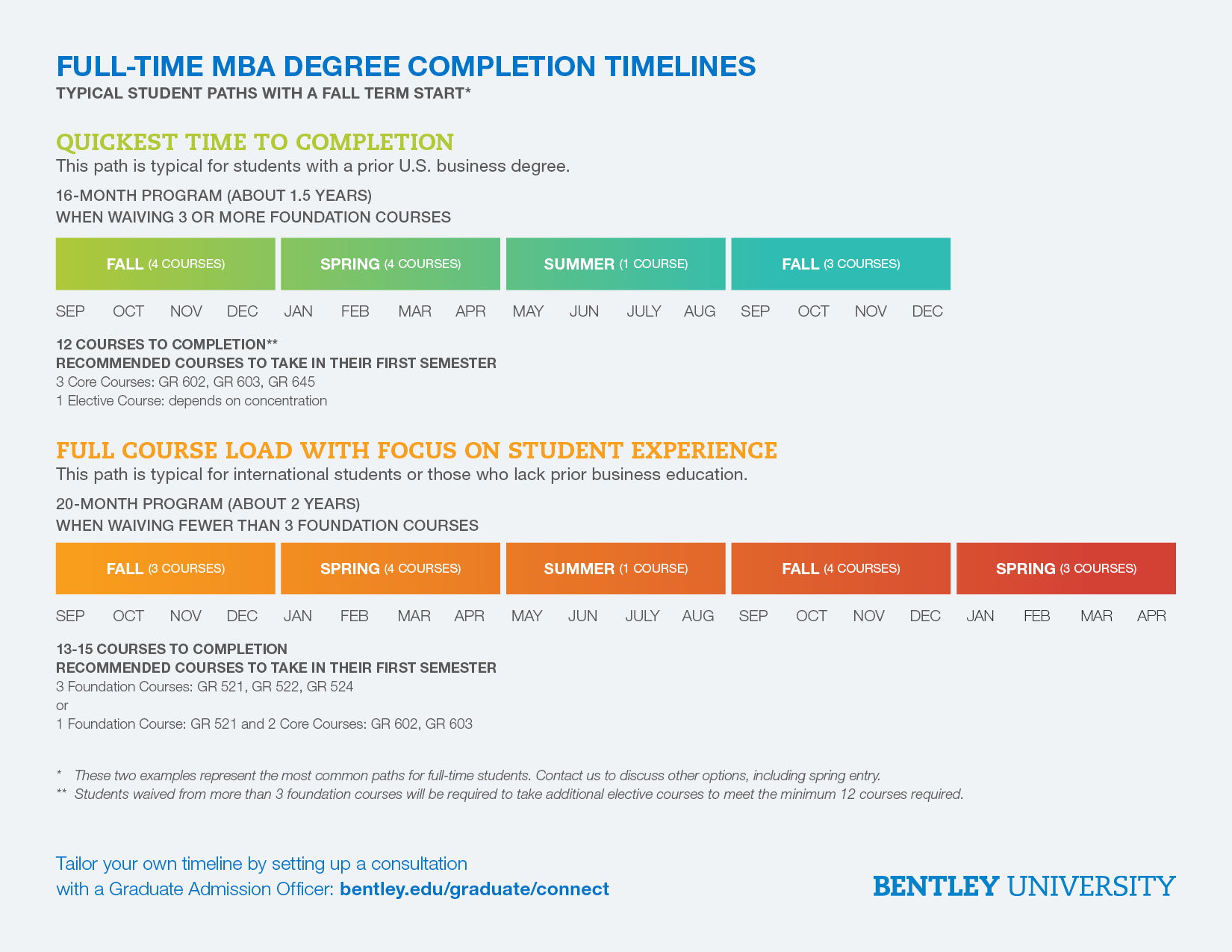 Ready to join the Full-Time MBA program?
Your Degree Outcomes
89%
placement within 3 months of graduation
60+
employers attending graduate events
45+
graduate-focused career events per year
Graduate Career Development Center
The Graduate Career Development team is amazing; always eager to help. They assisted me in getting where I am today and I am so grateful to them for this. I am very proud of my MBA & MSBA!
Pearl Brian-Esema, MBA, MSBA '19
Your Student Experience
Your additional program information
Application Deadlines & Program Requirements
Deadlines
To create a thriving population of students with a wide range of life and work experiences, Bentley considers the entirety of candidates' applications including prior work experience, test scores, learning objectives, and other factors as we determine admissions decisions. Visit our page to view application deadlines and rounds for both Fall and Spring entry terms.  
Program Requirements
Application fee / Transcripts (must have completed bachelor's degree) / Resume / 2 Essays / GMAT or GRE scores (may be waived for qualified students) / TOEFL/IELTS scores for international students (may be waived for qualified students) / Two letters of recommendation  / Interview
GMAT/GRE Waivers
Qualified applicants may be eligible to receive a GMAT/GRE exam waiver if you have either:
An undergraduate degree earned within the last five years from an accredited institution with a 3.2 or higher cumulative GPA.
At least five years of professional job experience. 
A prior Master's degree
Tuition and Aid
Rated the No. 4 Master's Program for Return on Investment by Payscale, a Bentley graduate degree is a smart investment in you. Bentley awards more than $2 million in merit-based aid to highly qualified full-time and part-time graduate students. Merit awards are based primarily on academic, professional and personal achievement, without regard to financial need. Scholarships are distributed in the form of tuition remission, and recipients must maintain a 3.0 GPA to retain award eligibility. Applicants are strongly encouraged to apply as early as possible for best consideration.
Student Resources and Support
Visit with Bentley staff members on campus and learn more about resources available to you as a current student. Featured in this video are Graduate Academic Advising, New Student Programs, Graduate Career Development, and our Center for International Students & Scholars.
Your Admission Team
175 Forest Street, Waltham MA 02452
Monday through Friday 8:30 a.m. to 4:30 p.m. Eastern
The Graduate Admission team is happy to connect. Please reach out to us directly, or use this page to find all the other ways to get in contact and learn more about Bentley University.
Explore more graduate business programs
Learn More About Bentley's Graduate School of Business