Marketing
To build a successful business, you need more than just a compelling product or service — you also need a comprehensive strategy to attract an audience and build your brand. At Bentley, you'll explore the fundamentals of marketing and public relations, including advertising and promotion, market research and analytics, and consumer behavior. You'll also have the opportunity to learn about more specialized fields, such as digital and social media identities. Further, you'll put these theoretical principles to practical use in our cutting-edge Center for Marketing Technology, working with companies like Apple, the Boston Red Sox and Converse to provide innovative solutions to real-world marketing challenges. With a degree in Marketing from Bentley, you can manage social media campaigns for top companies, meet celebrities and other high-profile guests as an event planner, or create viral campaigns to spread the word about a great new product.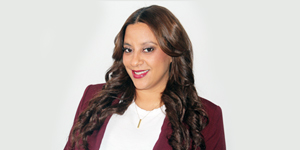 Beltre: Once A Student, Now a Teacher
A Double Falcon, Isaura Beltre earned bachelor's and master's degrees in Marketing as a Bentley student. Today, the proud alumna returns to the classroom — this time, as a teacher. Beltre, a retail merchandising expert who worked previously at Filene's and Macy's, serves on the board of KodeConnect, Inc., a Brockton-based non-profit providing STEM experience to underserved youth, and as Merchandising Director of ADCOLOR, an organization promoting diversity in the creative and marketing industries.  
Contact