Kirstyn Pearl '10 Leveraged her MBA and Grandfather's Recipe to Build a Chocolate Empire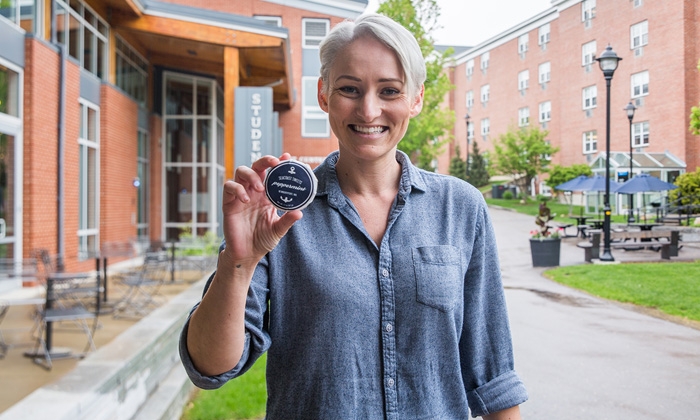 Kirstyn Pearl '10 started Seacoast Sweets out of her Bentley dorm room, selling her grandfather's family-famous homemade peppermint patties. "I never had this plan to build a chocolate empire. I just wanted to share my grandfather's recipe and see what I could do with it."
The process happened as if by chance. When Pearl, a Finance major at Bentley, would go home for Christmas during college break, she remembers her grandfather making the candy for neighbors and family. The only problem: After the holidays were over, people wanted more and her retired grandfather was already on his way to Florida to golf and relax.
But where there's a problem, there's a solution. "I saw an opportunity to jump in," Pearl says.
Pearl started with the basics: a social media account, an email account, a website. Then she enlisted her Bentley roommates to help stuff envelopes with announcements about her new chocolate-making operation. With no personal kitchen facilities on campus, her mother oversaw the candy making, and Pearl admits that when her first official web order came in, "I felt like I hadn't even done much work to make it happen."
From Bubble Gum to Chocolate
Growing up, Pearl always had a hustle, can-do mentality. In middle school she would buy gum wholesale and sell it to students in the hallway. In high school, she was the only girl on the golf team.
"I never let anything stand in my way, but at the time I didn't recognize it as a quality of being a successful entrepreneur or manager," she says, admitting that she didn't have strong entrepreneurial role models. "My only vision of success was climbing a corporate ladder. It wasn't until I got to Bentley that I was exposed to other ways to be successful. I saw my classmates with side hustles -- my best friend was selling lotions using the Instagram handle @indigoelixirs -- and learned about entrepreneurship."
And suddenly, "starting a candy company out of my dorm room didn't seem so crazy."
From Real Estate to Recipe Making
After graduating from Bentley, Pearl took a full-time job at CBRE, a commercial real estate company. She always had a passion for real estate – in high school she wrote a business plan for flipping houses and at Bentley she was president of the Real Estate Group. Real estate topped candy making until her boss heard about the peppermint patty business that Pearl was running on the side.
"He suggested we send the candy as holiday gifts for clients," Pearl recalls. After that the business grew. "Every January they would ask where they could order more and they even requested additional flavors."
Eventually, Pearl developed more professional packaging – a classic anchor logo and a gift box with gold foil and blue ribbon. But it wasn't until she got an MBA and was invited to speak at the Massachusetts Conference for Women in 2015 that she took the plunge to be a full-time entrepreneur. Research shows that women entrepreneurs have a more challenging time getting funding than men, but Pearl knew she had a good story.
"Getting buy-in from people is all about the story, and I had a lot of stories to tell: starting a company out of my dorm room, leaving the corporate world to build Seacoast Sweets, my grandfather's peppermint patty recipe," she says. "Crowdfunding on Kickstarter was a way for me to share these stories."
They resonated, and Pearl was shocked at the support she got from people she had never met. But there was also a lot of behind-the-scenes hustling with organizations that supported women such as mothers' groups and the Boston Business Women Facebook group where Pearl could engage in personal conversations. "Small groups of women are a force to be reckoned with," she laughs. "It's so much better than just walking into the bank."
Pearl was surprised by the fact that most of her Kickstarter donations – after the first $5,000 rush -- weren't family and friends. "They were just people who could relate to my story."
When she hit a fundraising plateau, her Bentley education kicked in. Namely, she says, "thinking outside the box: matching an investor dollar for dollar, selling 5 percent of the company, being shameless, which is an entrepreneurial mindset. I would just walk up to people and say: 'Do you like chocolate?'"
One step that helped the brand take off was hiring a young, "Instagram-famous" expert, @venturetravelist, to manage the company's social media accounts. Pearl also zeroed in on her target market ("young and fresh") and price point ("a number my friends and family could afford.") She then partnered with other Instagram accounts that catered to the same market and took a grass-roots marketing approach that included participating in a pop-up event at Frye boots on Newbury Street in Boston.
Time to Sell
As the business grew, a 100-plus work week became Pearl's life and she was losing sight of things that were important to her.  
"I worked full time in commercial real estate and got my MBA, so I would come home from work, sleep for two hours, then make chocolate," she says. "I was tying ribbons on my lunch break."
Something had to give, but Pearl wasn't about to let go of her dream to see Seacoast Sweets grow beyond a mom and pop shop. "Part of the fun was seeing how big I could get it and I knew that selling was the right decision for the brand."
She posted on the Boston Business Women Facebook group and on websites like buythisbusiness.com and found buyers. The purchase was completed in May 2018. Pearl says the new owners understood the brand and were willing to keep the story. "That was important," she says. "Like me, they had never dreamed of owning a chocolate company — and here we are."
Pearl's next venture is a trip to Silicon Valley to pursue a career that will allow her to "bring original ideas to the table" but in a more structured environment – and maybe even have time to read a few books and catch up on some sleep.