Using IT to Change the World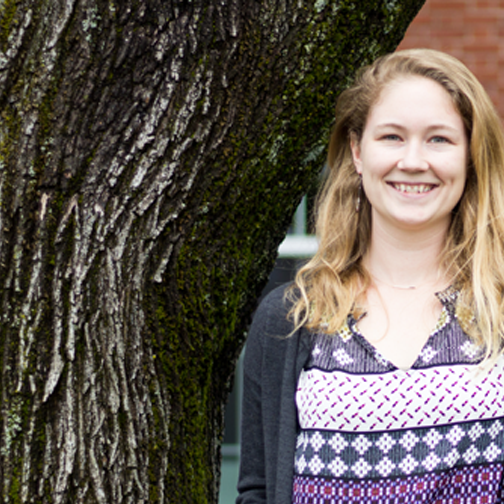 Mae Keefe ('18) had no plans to pursue a career in technology when she completed her BA in Philosophy in 2011.
Instead, she found a job in customer service, working at a small software company. Though she answered questions about technology daily, she never directly interacted with the software's code.
Eventually, Keefe decided to change that. She saw how her company's software improved businesses and wanted to learn the hard skills, such as programming languages, required to design similar tools herself.
"It's amazing to me how reliant we are on technology as a society, but really have very little understanding of how it functions," she says.
Determined to learn more about the product she was supporting, Keefe transitioned into quality assurance in 2015. Just one year later, she arrived at Bentley University for a master's degree.
Seeking a Skillset Companies Desired
Keefe was not looking for a typical computer science degree.
Her work at the software company taught her that it was vital to understand both technology and business in order to be competitive in today's economy. She explains that she "wanted to become conversant not just with business and sales people, but with developers and system architects as well."
She found that dual approach of IT and business at Bentley.
Rather than explaining IT through lectures and theories, her professors encourage vibrant discussions about real-world cases, showing students how IT can be utilized to innovate and streamline business processes. She recalls Professor Bill Schiano's class, Enterprise Architecture, saying that he "demands that you learn not just the content, but the skills needed to make use of it in the real world."
From her graduate courses, Keefe is learning the skills necessary to communicate not only with developers and system architects but also with marketers and financial analysts and all other stakeholders in business.
Finding a Community of Falcons
Though some may see her trajectory from philosophy to IT as a drastic change, Keefe sees the two subjects as complementing one another. Her undergraduate philosophy classes taught her to take complex ideas and break them down, something she now does with technological concepts.
"Substitute esoteric ideas with systems and databases, and I'm doing the same thing today!" she says.
What was a big change for her, however, was the community she found at Bentley. Going to a large university for undergrad meant she often felt like a number and didn't know where to go for needed resources. At Bentley, she found that the "staff and faculty seem to make it their mission to provide opportunities and pave the way for student success."
With the smaller campus also comes a closer community. Keefe's classmates often tell her about internships, jobs, events, and articles they think might interest her. Today, she's created friendships with people from all over the world, and that diversity of the student population is one of her favorite parts about the program
"Learning about other people's experiences and career goals has definitely helped me shape my own," she says, "and I'm really thankful for that."
Using IT to Change the World
Keefe's career goals take a big-picture approach.
"I care less about what job I have when I graduate and more about what kind of problems I'll be able to help solve and the people it will impact," she says. "The world has big problems to solve, and it needs people who can build and utilize new tools in order to solve them."
Through the Bentley master's program, Keefe is gaining the hard skills she once lacked — she's already completed her first programming class — while learning how to think in business terms. Add in her passion for social justice, and she is optimistic about her future.
She hopes to use technological tools to support sustainability and encourage more women to study and work in STEM fields, two causes she cares a lot about.
"I am genuinely concerned about the problems facing humanity right now, but I am also optimistic about our ability to solve them," says Keefe. "Technology is inevitably going to be part of that solution, and so am I."