Pipeline Research Report Request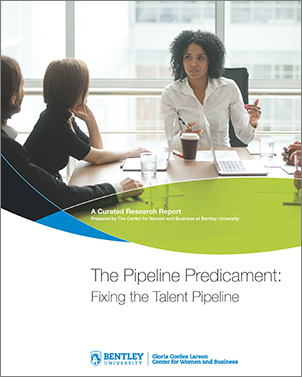 Thank you for your interest in the Gloria Cordes Larson Center for Women and Business (CWB) curated research report The Pipeline Predicament: Fixing the Talent Pipeline. Download the full report.
Executive Summary
The leaky corporate pipeline is a term that describes the way women drop out or "disappear" from the career and leadership trajectory at all stages of their professional lives. Despite widespread recognition that gender diversity and inclusion of all groups is good for the bottom line, women continue to fall off at every step, beginning with the first important move from entry level to early management. And from there, women's representation continues to decline all the way through the C-suite.
This report, based on a review of 185 sources, explores the state of the pipeline, the array of factors that impact it, and proven interventions. While focused on gender, the report also addresses other underrepresented groups, particularly women of color.
The primary reasons the leaky pipeline persists include:
Entry-level women start out making 20 percent less than their male peers.
Women are 21 percent less likely than male peers to be promoted to the first level of management.
Mid-career issues impact women disproportionately, as family issues often converge with increased job responsibilities. Often, these women have already been sidelined into support roles rather than line positions that provide a better path to the top rungs of management.
Compared to men, women lack adequate access to career-building relationships such as sponsors, mentors, role models, and networks.
Unconscious bias and micro-inequities play an outsized role for women. This includes biases against mothers, the double bind, the glass cliff and numerous micro-inequities that erode women's aspirations over time.
Outmoded workplace cultures and inadequate workplace policies and programs are a major impediment to women's career success. A few examples include a "24-7" mentality, a "boy's club" sentiment, inadequate parental leave, and a lack of flexible work options.
What do women see as major career deterrents? They believe the path to promotion is harder; that balancing home and work responsibilities is a major challenge; that they have less access to powerful relationships that can boost careers; that managers are often not transparent about pay and performance; and that both confidence and ambition are challenged by day-to-day workplace experiences.
Women see keys to career success as supportive cultures; fair and transparent pay and promotion processes; access to important relationships like mentors, sponsors, and networks; and adequate work-life balance programs like parental leave and flex.
The report discusses workplace interventions extensively, categorizing them into four broad categories: culture and leadership; metrics; people programs and processes; and game-changing relationships. A sampling of recommendations in this section includes: inclusive corporate culture reviews and leadership styles; improved hiring and promotion processes; and programs like flexible work, allies, professional development, and frontline manager training.
Featured sections of this report include: the benefits of women's leadership at every step of the pipeline, how women can make change, and why interventions sometime fall short. We conclude by noting the role of society and government in addressing pipeline issues.
Please provide the requested information. After submission, the confirmation page will include the link to download the full PDF report.