Close to 50% of Bentley's annual greenhouse gas emissions (carbon footprint) results from the electricity that we use in campus buildings.  With this in mind The Office of Sustainability and Facilities Management have made energy efficiency a top priority. 
Bentley's buildings are submetered for electricity and are linked to the university's Energy Management System (EMS) which allows Facilities Management to determine how much electricity is being used in real time in each building on campus. Over the past few years, Bentley has been systematically upgrading EMS controls in order to manage the indoor environment more efficiently and reduce energy consumption throughout campus. The majority of Bentley's buildings are equipped with high-efficiency lighting systems including LEDs, CFLs and/or system lighting controls.  
Solar Wall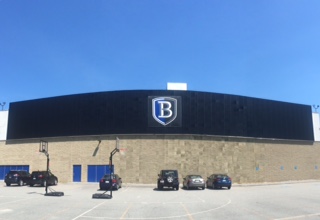 In September 2009 Bentley constructed of a 3,000 square foot solar thermal wall on the southern external wall of the Dana Athletic Center.  The solar wall is made of perforated wall material and is installed several inches from the exterior wall of the building to create an air cavity. The solar wall, which traps heat from the sun, is hooked up to a heating, ventilation and air conditioning (HVAC) unit. When the HVAC unit calls for outdoor air, the air is pulled through the solar wall and is heated in the process. The hot air rises up the air cavity created between the solar wall and the building's exterior wall and enters the HVAC unit. By providing the unit with pre-heated air, less energy is required to warm the air to room temperature.