Give 'N Go is Bentley's sustainable move out program where students can donate the items they don't want to take with them.  This program started in 2010 by a group of residential students who were concerned about the mountains of usable goods piled into Bentley's trash dumpsters every spring at move out.
Give 'N Go encourages community via student exchange, and reduces students' expenses by allowing students to take items that are donated to be reused.  This not only reduces the amount of trash generated but also promotes reuse.
Due to the Corona Virus and concern for the health and safety of the community Give 'N Go 2020 has been cancelled.
Locations: 
North Campus (TH only)
Main campus green space (T-TH, SAT)
First-Year Dorms between Trees and Slade (T-TH)
Parking lot 17 (near Rhodes) (T-TH)
Lower campus green space (T-TH, SAT)
Spring 2019 Give 'N Go Results - we collected 24,460 pounds in just 5 days! This was our best year yet in Give 'N Go. A huge thanks to our faculty and staff volunteers, Casella, and the faculty, staff, and students that donated!
A History of Give 'N Go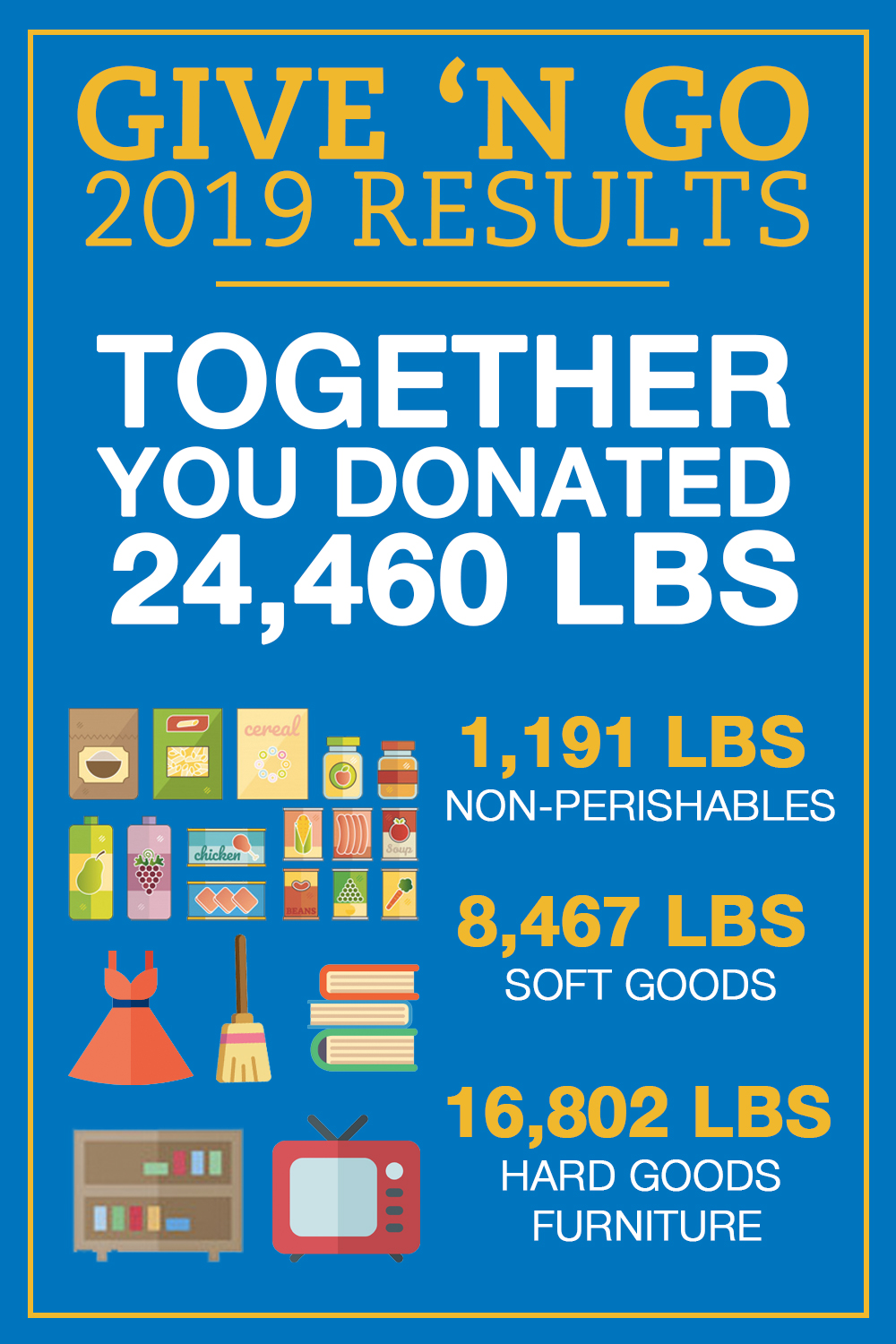 The first Give 'N Go was launched on December 6, 2010. The program encourages residential students to donate nonperishable food, usable clothing, electronics, furniture and books as they move out of the residence halls, instead of throwing these items away. The program includes a swap component to promote reuse on campus by encouraging students to reuse items donated by their peers.
2017 was the seventh anniversary of Give 'N Go on Bentley's Campus. The past years have been successful, diverting over 22,000 pounds of material from the landfill in spring 2018 alone. The Office of Sustainability reorganized the program for Spring 2013 by using temporary tents rather than PODS. This increased effectiveness and efficiency. In 2014 we added extra hours and extra locations to the tent system. In 2016 we were able to divert 15,199 pounds of material. 
Charities
Goodwill Northern New England
Goodwill Northern New England's mission is to enable persons with diverse challenges to achieve personal stability and community engagement.  Goodwill Industries of Northern New England strives to create the strongest, most positive impact throughout Maine, New Hampshire and northern Vermont. It is our mission to enable individual, personal stability while creating engaged, sustainable communities.
Chesterbrook Afterschool Program
The Chesterbrook Learning Center is an after-school program that intends to mentor and serve school-aged children living in a low income housing development in Waltham. Chesterbrook exists to enhance the educational and personal development of children aged 5-18 who live in the housing complex through tutoring and mentoring with the Bentley University students who attend the site.
There will be five drop off locations staffed by temporary workers and Bentley community volunteers. Drop of locations will consist of pop-up tents with large signs.
How It Works
What to Donate?
Clothing, Shoes
Bedding
Furniture
Unopened, non-perishable food
School Supplies
Kitchen items
Books
Electronics that work
Toiletries, laundry detergent, or cleaning supplies (okay if they are partially used as long as they are firmly closed.)
Drop off locations:
North Campus
Main Campus Green Space*
First-Year Res Halls between Slade and Trees
Parking Lot 17 (outside of Rhodes)
South Campus Green Space*
Drop off times:
Give 'N Go 2020 will be held Tuesday, May 5 - Thursday May 7 and Saturday May, 9th
Swapping:
Similar to previous years, students will be allowed to swap items at the donation stations to encourage the reuse of goods. There are no rules for swapping, but swappers must keep donations organized and put items like clothing back in boxes when finished. Trashing of the donation stations will not be accepted and any persons who appear to be ignoring these rules will be asked to leave the donation station.
All items left over at the end of each day will be donated to local charities.
Want to volunteer?
Faculty and Staff are encouraged to volunteer. Email GA_bentley_sustainability@bentley.edu if you are interested in volunteering for Give 'N Go this year.