The Office of Sustainability is changing the way Bentley handles waste.
As part of Bentley's Strategic Goals, we've pledged to reduce our waste by 60% by the year 2020. Together as a community, faculty, staff, and students, are contributing towards achieving this goal through small changes to everyday habits.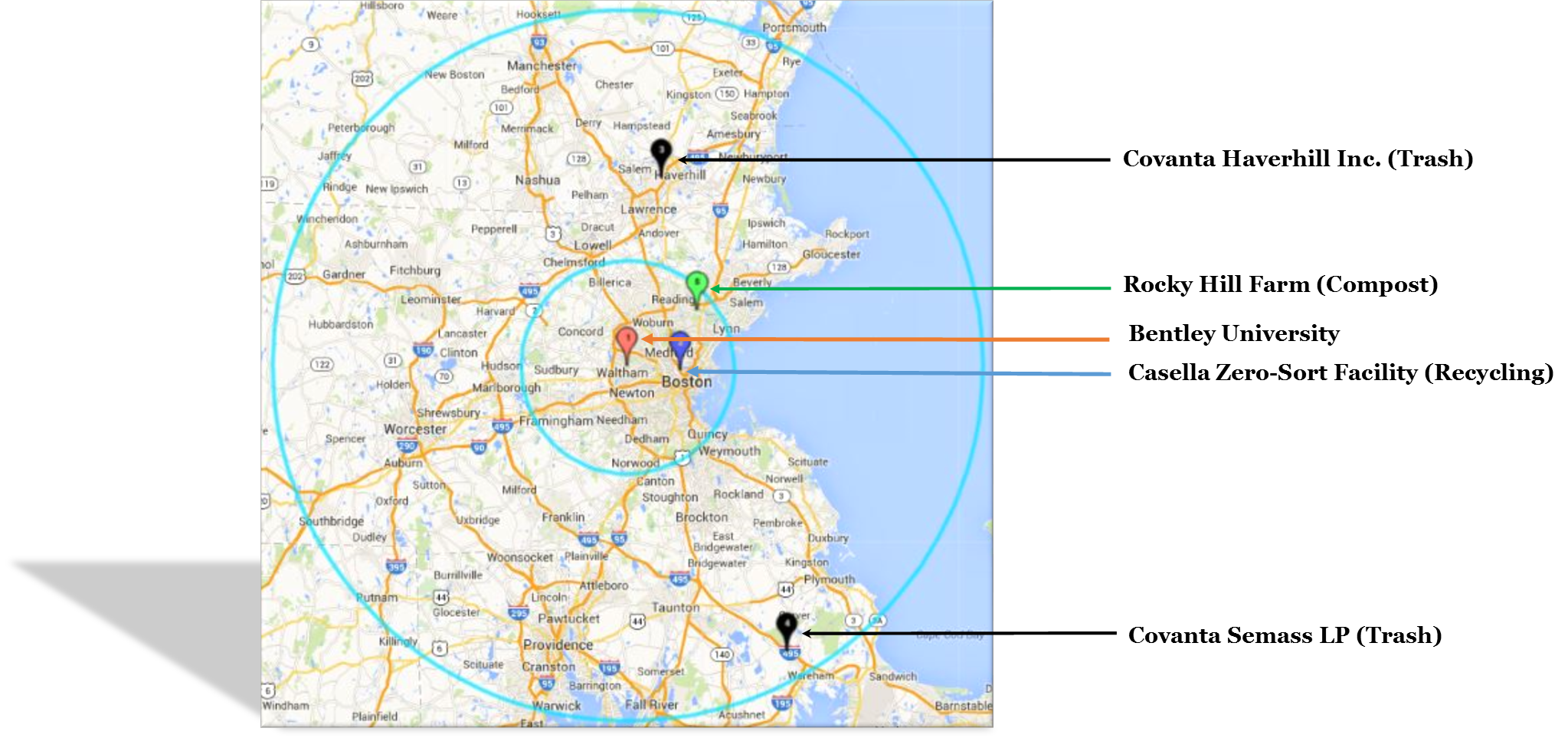 Click the map above to see where Bentley's waste streams go. All of our facilities are within 50 miles of campus, while our recycling and compost facilities are within 15 miles of Bentley.
What Happens to Our Trash?
So you've recycled as much material as you can but are still some non-recyclables that need to go into the trash. Do you ever wonder where all of the trash generated on our campus goes? Here's what happens:
Non-recyclable material ("trash" or "municipal solid waste") is collected in dumpsters.
Casella empties the dumpsters and transports the trash to a

Covanta

Waste-to-Energy facility in Haverhill, Massachusetts. At the facility, trash is combusted at a high temperature creating steam that turns turbines to generate electricity.
For every 10 tons of municipal solid waste burned 5,200 kWh of power is generated.
Electricity is fed back into the grid and is used to power homes and businesses.
Wait, if our trash is being used to generate energy, why should I recycle?
Despite the benefits of the waste-to-energy process, recycling is still found to have far greater net energy savings than waste-to-energy processes. Research shows that taken together, the manufacture of products from recycled materials plus the processes of recycling, use considerably less energy than the manufacture of new products from virgin sources, plus the incineration of those products in a waste-to-energy facility.
The energy savings are due mostly to the substantial reduction in energy use associated with manufacturing products from recycled materials, relative to manufacturing products from virgin materials.
So what should we be doing?
Think about your consumption of goods and choose to buy items which have less packaging or a longer life span (rather than single-use items); this way you are creating less waste in the first place.
After reducing the amount of material that you use, recycle as much material as possible to keep re-usable material in the product stream.
Only put items which cannot be recycled in the trash cans or dumpsters.
Single-Stream Recycling
Bentley University has a single-stream recycling program; luckily for us that means no sorting. All you have to do is keep trash and recycling separate. Not sure what to recycle? Here is your guide!
Composting
All pre-consumer food waste generated in campus kitchens in LaCava, the Student Center and the Dana Center is collected in Bentley's compost program. Additionally, post-consumer food waste is collected in from leftover meals in the 921 dining hall and from the university's catering operations. The food waste is sent taken to a plant in Charlestown, MA to be processed into a slurry.  After the waste is mixed with water and broken down into little pieces, they introduce microorganisms to eat the slurry.  The microorganisms then emit gas which is burned to create heat and electricity.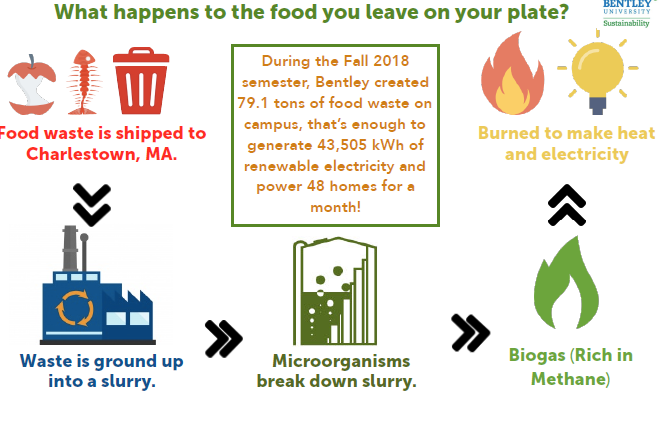 Food For Free 
The Office of Sustainability and Bentley Dining launched a new program in Fall 2017 to redistribute unused, leftover prepared food that is not consumed by Bentley students, staff and faculty to feed people in need.  In the first semester of this program, Bentley donated over 3,800 lbs of food to Food for Free a Cambridge based nonprofit.  Currently, Bentley pays a small fee to compost leftover food.  Per the Massachusetts Food Waste Ban, Bentley is not allowed to throw leftover food in the trash.  This program helps improve our triple bottom line and feeding people who are in need. 

Please visit the FAQ page to find answers to the most frequently asked questions on recycling and waste.